Tile and Grout Cleaning Los Angeles
Beautiful tile floors are an eye catcher whenever you walk into a home. Tile gives that pampered feeling of luxury that nothing else does. Tile is used for its beauty and durability in kitchens and bathrooms. It's the perfect material for a room that will be steamy and moist because it is nonporous and doesn't absorb water. This makes tile a perfect material.
Over time the  grout lines between the tiles will start to discolor. Regular mopping cleans the floor and unfortunately it speeds discoloring and wears out the grout making it discolored. In Los Angeles  many homeowners struggle with cleaning the grout. It  can be a long tedious process. Using retail grout cleaners can discolor the grout and make the color uneven across your floor.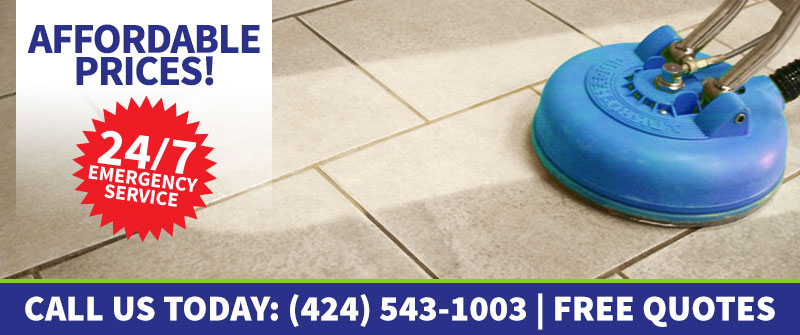 Carpet Cleaners Los Angeles will help with this. We offer grout cleaning services. You don't need to do this alone. Our technicians use state-of-the-art equipment that applies heat, cleaning liquid, pressurized water, and vacuums lift the set in dirt out of the grout. We do this without damaging your floor. We'll get your grout clean. Your floor looking like amazing again.
After, we'll seal your floor and your grout. The sealant is colorless so it won't darken the grout lines at all. It will protect your grout and your floor from wear over time. Carpet Cleaners Los Angeles preserves your grout and your tile. If your grout needs to be fixed we can do it for you. Remember grout that isn't maintained allows water to seep into your subfloor over time and causes damage.
Why hire Carpet Cleaner Los Angeles furniture cleaning? Our customers have many different reasons. We'll get the job done for you as soon as possible. Our technicians have the training, experience, and equipment to handle every situation. Call Carpet Cleaners Los Angeles for a free estimate today. We guarantee all our work.